Full Course Bundle
The Complete Flutter Course Bundle
Learn about State Management, App Architecture, Navigation, Testing, and much more by building a full-stack Flutter eCommerce app on iOS, Android, and web.
Full Curriculum
What's inside
I'm creating an extensive Flutter curriculum made of 3 courses, covering many advanced topics that you'll need to create full-stack apps with Flutter & Firebase:
Andrea's Flutter content is amazing - it's one of the few resources I consistently reference for advanced real-world solutions.
He clearly puts a huge amount of care and thought into every tutorial. Highly recommended!
Learn More
Course Overview
Getting started with Flutter is easy enough.
Once you know about the most important widgets, you can start building apps and add features.
But unless you have a robust architecture in place, you'll soon run into problems and start questioning your decisions:
This widget does way too much, but where should all this logic go?
I have bugs! How do I fix them and prevent new ones from appearing?
I know I should write tests for this code, but I don't know how. Help!
Maybe I should just delete everything and start again! But how can I get it right next time?
I know how you feel. I've been there myself.
Now, imagine...
Feeling confident about how to structure your code
Knowing how to write automated tests for almost any case you can think of
Having a repeatable process for adding new features, reliably
Becoming comfortable with the entire app development lifecycle, from planning to implementation to deployment
Sounds good, right?
To help you get there, I'll guide you through the process of building a real-world eCommerce app in Flutter. And I'll explain my reasoning and decision-making all along.
You could waste hours or days trying to make sense of it all with some random tutorials.
Or you can learn with the techniques and best practices I learned through years of experience, all distilled into a well-structured curriculum that goes above and beyond what you can find on YouTube or Udemy.
Loved the course and got a lot out of it.
Especially appreciated how Andrea doesn't just show you the "right way" to do things from the start. He shows common errors and pitfalls and how to get around them, and eventually end up at the "right way" with a better understanding of how to actually get there in your own projects.
The course also has a healthy balance of code-alongs for relevant portions and provides you with updated project files throughout, so you don't have to spend hours manually going through every single line of the project.
It could be my previous experience with writing code but DART explained by Andrea was smooth.
I never really understood OOP and I struggled in that area until I watched this course. I made sure I tried and completed every exercise even though it took me days.
Excellent course. Excellent Instructor, well knowledgeable and resourceful. Would totally recommend.
Andrea is the best! I love his passion and enthusiasm and dedication to teaching.
He cares deeply about programming and sharing his knowledge and experience with his students.
Andrea's teaching style is awesome.
I have been building Flutter apps for close to 3 years, and I still find a lot of useful and new material with his courses and articles.
Andrea has some of the highest quality online courses I have seen. He does not gloss over the issues of optimization or best practices that so many other courses do.
You can adapt what you learn from his courses, right into real-world applications!
Up-to-date content, didactic instructor, good support community on Slack, additional resources, tutorials and optional videos with the latest advances in Flutter.
Concise and direct to the point, with a huge number of diagrams. A colossal amount of work to simplify our learning.
Everything's clear. I really love the way you explain, concise but completely understandable. Not a single detail is missed on any topic that is covered, and if so, you always leave references to really useful articles.
No doubt that anyone who take this course will end up with complete and strong Flutter skills.
I have spent the weekend on just this lesson. It was a great time investment to watch the lessons, follow the links, and do the suggested homework.
Although I've been working with Flutter for almost a year and have taken several other courses, I feel like my skills have advanced further and faster this weekend than at any other point in the past year. Thank you!
Upcoming
A Complete Flutter Curriculum
I'm creating an extensive curriculum made of multiple courses, covering many advanced topics that you'll need as a professional Flutter developer.
Since all the Flutter foundations around app architecture, state management, and testing are so important, I'll cover them first as a standalone course.
Then, I will release a follow-up course about Firebase, covering everything you need to build full-stack apps with Flutter & Firebase, complete with backend integration using Cloud Functions and 3rd party integrations like Stripe and Algolia.
And finally, I'll publish an in-depth course about using Flutter in production. This will show you how to setup CI/CD workflows with GitHub Actions and Fastlane, as well as how to deploy your apps to Google Play and the App Store.
---
In creating these courses, I'll bring over a decade of experience in mobile app development, spend countless hours researching, learning, and experimenting with different techniques, and condense everything into a comprehensive curriculum.
Course #1
Flutter Foundations
Module 1
Intro and Project Overview
A general overview of the course project:
Project setup & recommended VSCode extensions
App overview, project structure & code walkthrough
Running the app on iOS, Android, Web, and Desktop
Exploring the codebase with the Widget Inspector
Widget design principles: composition & code reuse
Responsive UI concepts
Localization
Module 2
Navigation with GoRouter
Declarative routing in Flutter: what, why, and how.
Limitations of Navigator 1.0
Migrating the project from Navigator 1.0 to GoRouter
Routes, sub-routes & navigation
The difference between "go" vs "push"
Routing by path vs routing by name
Passing parameters to routes
Navigation state and redirects
Module 3
App Architecture
How to choose and enforce the right architecture for your app:
Popular App Architectures: MVC, MVVM, Clean Architecture, Bloc
Architecture as a function of app complexity
Widgets, controllers, services, and repositories
Project Structure: Feature-first vs Layer-first
The repository pattern and the data layer
Working with Future and Stream-based APIs
Module 4
State Management with Riverpod (Part I)
Getting started with Riverpod:
Why Riverpod?
Installation and setup
Riverpod as a Dependency Injection system
Working with Providers, ConsumerWidget, and Consumer
Working with FutureProvider, StreamProvider, and AsyncValue
The family and autoDispose modifiers
Creating a reusable AsyncValueWidget helper
Module 5
State Management with Riverpod (Part II)
Going deeper with Riverpod by implementing a user authentication flow:
Working with StateNotifier and StateNotifierProvider
Using AsyncValue as a state class
ref.read() vs ref.watch()
Using ref.listen() to respond to errors
Working with dependencies and combining providers
Working with realtime data
Module 6
Automated Testing (Part I)
How to write unit tests, mock dependencies, and work with test coverage:
Unit tests
Mocking dependencies with Mocktail
Testing code with Futures, Streams, exceptions, predicates
Test lifecycle methods
Testing with Acceptance Criteria (Given When Then)
Generating Flutter test coverage data in VSCode
Running tests with GitHub Actions
Module 7
Automated Testing (Part II)
How to write various kinds of tests for many different scenarios:
Widget tests
Integration tests
Golden image tests
Robot testing
Module 8
Feature: Shopping Cart (with local data persistence)
Building the shopping cart feature for the eCommerce app:
Analysis and technical planning for a complex feature
How to store shopping cart data locally with Sembast
JSON serialization
App architecture: service classes and the application layer
Advanced Riverpod use cases
How to sync data between local and remote repositories
Automated tests for the cart business logic
Module 9
Feature: Checkout Flows
Building the checkout flows for the eCommerce app:
Implementing the user checkout journey (registration, payment)
Business client-side logic for placing orders
Adding unit, widget, integration tests for the checkout flows
Module 10
Error Handling
Strategies for handling errors in Flutter:
Errors vs Exceptions
How to represent exceptions: enums vs subclasses vs sealed classes with Freezed
Creating a robust error handling system
Logging errors with ProviderObserver
Functional error handling with Result types vs try/catch
Module 11
Feature: Product Reviews
Adding a product reviews feature to the eCommerce app:
Leaving reviews for purchased products
How to preload and submit form data (useful for CRUD operations)
Calculating and updating the average rating when the reviews change
When to use FutureProvider vs StreamProvider to build reactive UIs
Showing all reviews in the product page using slivers
Module 12
Feature: Product Search
Adding a product search feature to the eCommerce app:
How to search: client vs server-side
Writing a search service class
Debouncing search queries
Search implementation tradeoffs: Futures vs Streams
Module 13
New Riverpod 2.0 APIs & Riverpod Generator
Exploring the new APIs and features of Riverpod 2.0:
The new Riverpod Generator package
Converting existing providers to the new @riverpod syntax
Replacing StateNotifier with the new AsyncNotifier class
Writing unit tests for AsyncNotifier subclasses
We'll cover the topics above in great depth, with a good mix of theory and practice. I will explain important concepts with clear diagrams, and include exercises to help you apply what you learn.
Along the way, we'll build an eCommerce app with features such as a product listings, search functionality, shopping cart, checkout, etc.
You'll also have access to a Slack channel where you can ask questions and get help directly from me.
Andrea once again proved why he is considered the best instructor when it comes to app architecture.
Even if this course was priced at $200, I would still have bought it because the value he provides is much more than that.
Course #1
Get the Flutter Foundations Course
Updated Feb 2023. Works with the latest Flutter, Riverpod, and GoRouter versions.
Join 1,500+ developers who have already decided to advance their Flutter skills.
This is a great foundation course for aspiring Flutter devs.
Rather than learning from the top down (starting with rendering widgets etc), this course provides fundamental concepts which form the basis of developing robust, well-architected apps.
This is especially important for those who are not coming from a software engineering background.
Andrea is a naturally good teacher, who covers the material at a nice pace, and takes the time to explain context and what is going on as he proceeds through the course.
I'm looking forward to the follow up courses too!
Yet another outstanding Flutter course, where Andrea guides us through the design and setup of an elegant and robust eCommerce solution, using Riverpod and GoRouter.
What makes this course outstanding are the clear explanations and rationales given for each design choice.
The app architecture Andrea introduces is well structured - one could even say very elegantly crafted. And it is all covered in clear and easy-to-digest steps.
Using what you learn here, you can take your Flutter skills to the next level and createclean, scalable, and robust production-ready Flutter apps.
The course series is still in production as I write this review. Having completed what is available so far, it is, in my opinion, on the path to becoming the "Flutter masterclass" reference course.
Absolutely great course so far. You have just enough written for us that we're not mindlessly copying your code and losing context on what we are actually trying to learn.
Also, everything is precise and to the point. Every word said has been planned to give maximum weight and explanation to the lesson.
I can tell you spent a long time putting this together, and it shows. I wish other instructors were half as good as you at creating course content, putting it in the correct ratio of doing some for us beforehand, coding along with you, and giving other related info we need.
Even the links and other optional course material are top-notch. Thanks so much for a great course.
This is, by far, the best Flutter video course I've followed.
It is very difficult to find such a comprehensive yet well-explained and easy-to-follow set of information about building a "real world" Flutter app using a sound architecture and powerful state management techniques.
You are hitting the correct balance between intermediate and advanced concepts that translate into a very usable learning curve and information easily transportable into other projects.
I've borrowed many ideas already and I'm looking forward to the next course!
The content is simply exemplary. If you are interested in creating cross-device apps, then Flutter is a great choice and Andrea's lessons will get you up to speed.
If you care about good architecture, Andrea will help you out with a sensible approach that will make your code readable and maintainable.
I'm starting to realize that I was doing things the wrong way from the beginning.
I'm excited to see that I'm finally learning the best practices for working on a Flutter app, and I'm sure I will become very confident about building the complex app that I need.
I spent over 800 hours making this a high-quality course and I'm confident you'll get a lot of value out of it.
But if you're not happy with it, for any reason, you can reach out within 30 days of purchase to get a full refund.
---
Upcoming - Course #2
Flutter & Firebase Masterclass
Note: this is not included in the Flutter Foundations Course
After building the eCommerce client app in Flutter, we'll focus on the backend.
Here's what you'll learn:
Introduction
Firebase Pros and Cons
An overview of the Firebase Pros and Cons for Flutter app development:
List of features and supported platforms
Dart support (client vs server-side)
Pricing
Portability & vendor lock-in
Developer experience
Module 1
Firebase Basics
Create a simple full-stack app with Flutter and Firebase:
Installing the Firebase and FlutterFire CLI tools
Adding Firebase to a Flutter app
Simple authentication flow with Firebase UI
Listening to auth state changes with GoRouter and Riverpod
Getting started with Cloud Firestore
CRUD operations and reading realtime data
Firebase UI for Firestore: FirestoreListView, FirestoreQueryBuilder, Pagination
Caching and offline mode
Security rules and finishing touches
Module 2
Full-Stack eCommerce App Overview
A full overview of the eCommerce starter project:
Feature-first app architecture with Riverpod
Using repositories as Firebase API wrappers
Choosing real vs "fake" repositories with provider overrides
Configurable app bootstrap code
Project structure: features and layers
Modular architecture and Firebase UI tradeoffs
Module 3
Firebase Authentication
Adding user authentication flows to the app:
Introduction to Firebase Authentication
Adding Firebase to the eCommerce app (using FlutterFire CLI)
Abstracting the FirebaseAuth APIs behind a repository
Sign in with email and password
Auth state changes and the User class
Dealing with FirebaseAuthExceptions
How to implement email verification
Automated testing with FirebaseAuth
Module 4
Cloud Firestore and Firebase Storage
Multi-page image upload workflows with Firebase Storage and Cloud Firestore:
Overview of the image upload UI screens
Uploading images with Firebase Storage
Storing the download URL with Cloud Firestore
Adding, editing, and deleting products with Cloud Firestore
Alternative image upload workflows: file picker / image picker
User input and validation with complex forms
Firebase error handling
CORS setup for Firebase Storage images on Flutter web
Module 5
Firebase Local Emulator and Cloud Functions
Adding custom server-side code with Cloud Functions:
Adding a local Firebase project with the Firebase CLI
Working with the Firebase Local Emulator
Choosing which emulators to run in the Flutter app
Introduction to Cloud Functions and TypeScript
TypeScript ESLint configuration
Writing and testing Cloud Functions locally
Generating and removing product list data with Cloud Functions
Deploying Cloud Functions
Calling https and callable functions from the Flutter app and handling errors
Module 6
Role-Based Authorization with Custom Claims
Implementing role-based authorization with custom claims:
Setting custom claims securely with Cloud Functions
Checking for ID token changes
Unlocking admin-only features with custom claims
Checking for admin claims in the GoRouter redirect logic
Security rules with custom claims
Securing callable Cloud Functions
Module 7
Cloud Firestore - Diving Deeper
Diving deeper with Cloud Firestore:
NoSQL Data modeling
Working with sub-collections and collection groups
Cost measurement and optimization
Queries and indexes
More practice with CRUD
Adding shopping cart, product reviews, checkout flows, and more
Module 8
Stripe Integration
How to collect payments in the Flutter app:
Overview of the various payment methods
Stripe Dashboard and API keys
Storing API keys securely with Firebase Secrets
Working with Payment Intents
Native payment sheets on iOS & Android
Web payment UI with Stripe.js
Backend integration with Stripe webhooks
Securing webhooks with signature verification
Server-side order fulfillment with transactions
Module 9
Algolia Integration
How to implement server-side search with Algolia and Firebase extensions:
Adding the Algolia extension to the Firebase project
Indexing product data
Adding Algolia-powered search to the Flutter app
Module 10
Deployment with Firebase Hosting
How to deploy the Flutter web app with Firebase Hosting:
Build and deploy the web app
We'll cover the topics above in great detail, and you won't be left wondering if your code is secure or if you've structured your database properly.
And when it comes to code quality, we'll make sure to write clean, maintainable code that's easy to extend and scale.
By the end of this course you'll have built a full-stack eCommerce app, complete with a working backend and Stripe integration.
---
Upcoming - Course #3
Flutter & Firebase in Production
Note: this is not included in the Flutter Foundations Course
Learn how to completely automate the testing and deployment of your app.
Flavors and Environments
Setting up multiple flavors and environments:
Why we need multiple flavors
Setting up a multi-flavor Flutter app Very Good Start
Adding Dev, Staging, and Production environments with FlutterFire CLI
Error Reporting with Sentry
How to collect and report errors in the Flutter app:
Setting up a Sentry account
How and where to report errors in the Flutter app
CI/CD with GitHub Actions and Fastlane
Setting up CI workflows with GitHub Actions:
Basic Flutter workflows: build and test
How to manage API keys securely with GitHub Actions
Code signing with Fastlane
Deploy to the App Stores
Google Play & App Store deployment:
Setting up developer accounts
Code signing on iOS
Automating code signing with Fastlane
Development, AdHoc and Distribution builds
Automating App Store submission with Fastlane
By the end of this course you'll be comfortable with the entire app development lifecycle, from planning to implementation to deployment.
Intended Audience
Who are these courses for?
These are intermediate to advanced-level courses, going above and beyond what you can find on YouTube or Udemy.
To make the most of them, you'll need to be already familiar with the Dart language (my Dart course can help with that) and how to build apps with Flutter.
The sections about state management and navigation will use the Riverpod and go_router packages, starting from the basics (it's ok if you haven't used them before).
Likewise, it's ok if you don't know how to use Firebase yet. I'll cover the basics quickly and then move on to the more advanced topics.
Ultimately, you'll become confident with the entire app development lifecycle, have a full eCommerce app to show for it, and save lot of time and effort in the future.
Success Stories
Kind words from my students
Andrea clearly put a lot work into the material, and after completing solely this course, now I really feel like I now know the fundamentals of Dart and am ready to finally dive into Flutter with confidence!
Thank you again for this great course, I went through some of the lessons multiple times, but it was definitely worth it, and will surely revisit some of the topics if needed.
I love that all topics are separated into short videos, and that every second of every video is valuable (not wasting our time for a moment).
I can honestly say that Andrea's knowledge and guidance is top notch! He explains the principles well which helps you understand the concepts and structures within the Dart language.
This course is a great asset to anyone looking to improve their coding skills. Having Andrea by your side, you should feel privileged to have a mentor / coach of his caliber, who shares his knowledge in such an "easy to understand" manner. Thanks!
Animations have always been my weak point, but Andrea's course covers most if not all the biggest Animation topics, and does so with lots of examples.
Another fantastic course from a great teacher.
Andrea always goes in-depth by creating high-quality courses, and this one does not disappoint.
Learning about animations in Flutter is vital to building beautiful and engaging applications.
I highly recommend this course if you want to master animations in Flutter!
Very well structured course. Easy to understand and Andrea answers questions in his lectures actively.
There's a lot of complex subjects and concepts that Andrea has helped me feel comfortable enough to grasp with his teaching style.
Top notch and highly recommend this course if you're looking to learn Flutter, Dart and Firebase.
Clear explanations, a useful practical application that demonstrates all the core things essential to building an app ready for release into the wild.
Every step taken is clearly and thoroughly explained, plus downloadable code for every section of this course. A fantastic current course and is proving invaluable for strategies for building ideas for my own app.
Cannot praise this course and Andrea's presentation highly enough.
FAQ
Frequently Asked Questions
instructor
Hello, I'm Andrea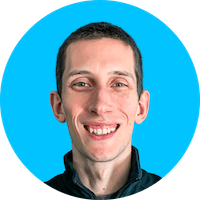 My name is Andrea, I'm a Flutter GDE and I've been writing code professionally for over 12 years. I've been a mobile app developer since 2012, working for startups and big companies.
With my Flutter tutorials and courses, I've helped thousands of students become better developers.
By taking this course, you'll considerably advance your Flutter skills and become confident with the entire app development lifecycle.