4x Course Bundle
Flutter Foundations Course
Flutter & Firebase Masterclass
Flutter Animations Masterclass
The Complete Dart Developer Guide
30-day Money-Back Guarantee
---
What's Included
This bundle includes all my Flutter and Dart courses. If you prefer, you can still buy each course individually and get 50% off during my Black Friday sale.
Helping you choose
Which is the right course for me?
My courses span a wide range of topics and expertise levels:
The Elephant in the Room
Are the courses up to date?
My two best-selling courses have been just updated to the latest Flutter 3.16 release. These are:
Most of the code and videos are up to date and I've also added notes about the most recent API changes.
As for my other courses:
The Flutter Animations Masterclass was last updated in July 2021. Since then, the Flutter animation APIs have not changed at all, but some of the packages in the course have. In the coming weeks, I will revisit this course by updating the code to the latest Flutter version and adding notes about breaking changes.
The Dart course has not been updated since Dart 2.15. As such, it's missing the latest Dart 3.0 features, such as Records & Patterns. But it's still a great resource if you're a beginner and want to understand the language deeply.
As you can imagine, creating new content and keeping old content up to date is very challenging, and I try my best to strike the right balance.
With that said, I'll set aside some time in December 2023 for additional course updates. And if you buy my courses today, you'll get the updates for free as soon as they are available.
Loved the course and got a lot out of it.
Especially appreciated how Andrea doesn't just show you the "right way" to do things from the start. He shows common errors and pitfalls and how to get around them, and eventually end up at the "right way" with a better understanding of how to actually get there in your own projects.
The course also has a healthy balance of code-alongs for relevant portions and provides you with updated project files throughout, so you don't have to spend hours manually going through every single line of the project.
It could be my previous experience with writing code but DART explained by Andrea was smooth.
I never really understood OOP and I struggled in that area until I watched this course. I made sure I tried and completed every exercise even though it took me days.
Excellent course. Excellent Instructor, well knowledgeable and resourceful. Would totally recommend.
A BIG BIG THANKS for this course and the others that you will release later in the year.
Its just so much fun to see something new from my favourite GURU (teacher) and the anticipation of its release is so so exciting.
Just looking at the curriculum, it shows how much effort and thought you have put into developing this.
Thank you once again, as I begin this new journey.
I've been developing for more than 10 years, especially using web technologies, and I went through this course like a breeze.
I was impressed by Andrea's reactivity and quality of support on the course Q/A and on Slack.
I will be following his code architecture proposal going forward with my team on our Flutter projects.
The content is simply exemplary. If you are interested in creating cross-device apps, then Flutter is a great choice and Andrea's lessons will get you up to speed.
If you care about good architecture, Andrea will help you out with a sensible approach that will make your code readable and maintainable.
I'm starting to realize that I was doing things the wrong way from the beginning.
I'm excited to see that I'm finally learning the best practices for working on a Flutter app, and I'm sure I will become very confident about building the complex app that I need.
4x Course Bundle
Flutter Foundations Course
Flutter & Firebase Masterclass
Flutter Animations Masterclass
The Complete Dart Developer Guide
30-day Money-Back Guarantee
I spent thousands of hours creating and refining these courses, and I'm confident you'll get a lot of value from them.
But the only way to find out if the courses are right for you is on the inside, not on the outside. So you get on the inside and see if they are true and valuable to you. Then, if they are, that's when you decide to keep them.
But if you're not happy with them, for any reason, you can reach out within 30 days of purchase to get a full refund. All you have to do is go to courses@codewithandrea.com and tell me "gimme my money back" and you got it, and in short order. My response time is usually 24 hours.
Success Stories
Kind words from my students
Andrea is the best! I love his passion and enthusiasm and dedication to teaching.
He cares deeply about programming and sharing his knowledge and experience with his students.
Andrea's teaching style is awesome.
I have been building Flutter apps for close to 3 years, and I still find a lot of useful and new material with his courses and articles.
Andrea has some of the highest quality online courses I have seen. He does not gloss over the issues of optimization or best practices that so many other courses do.
You can adapt what you learn from his courses, right into real-world applications!
Up-to-date content, didactic instructor, good support community on Slack, additional resources, tutorials and optional videos with the latest advances in Flutter.
Concise and direct to the point, with a huge number of diagrams. A colossal amount of work to simplify our learning.
Everything's clear. I really love the way you explain, concise but completely understandable. Not a single detail is missed on any topic that is covered, and if so, you always leave references to really useful articles.
No doubt that anyone who take this course will end up with complete and strong Flutter skills.
I have spent the weekend on just this lesson. It was a great time investment to watch the lessons, follow the links, and do the suggested homework.
Although I've been working with Flutter for almost a year and have taken several other courses, I feel like my skills have advanced further and faster this weekend than at any other point in the past year. Thank you!
This is a great foundation course for aspiring Flutter devs.
Rather than learning from the top down (starting with rendering widgets etc), this course provides fundamental concepts which form the basis of developing robust, well-architected apps.
This is especially important for those who are not coming from a software engineering background.
Andrea is a naturally good teacher, who covers the material at a nice pace, and takes the time to explain context and what is going on as he proceeds through the course.
I'm looking forward to the follow up courses too!
Yet another outstanding Flutter course, where Andrea guides us through the design and setup of an elegant and robust eCommerce solution, using Riverpod and GoRouter.
What makes this course outstanding are the clear explanations and rationales given for each design choice.
The app architecture Andrea introduces is well structured - one could even say very elegantly crafted. And it is all covered in clear and easy-to-digest steps.
Using what you learn here, you can take your Flutter skills to the next level and createclean, scalable, and robust production-ready Flutter apps.
The course series is still in production as I write this review. Having completed what is available so far, it is, in my opinion, on the path to becoming the "Flutter masterclass" reference course.
Absolutely great course so far. You have just enough written for us that we're not mindlessly copying your code and losing context on what we are actually trying to learn.
Also, everything is precise and to the point. Every word said has been planned to give maximum weight and explanation to the lesson.
I can tell you spent a long time putting this together, and it shows. I wish other instructors were half as good as you at creating course content, putting it in the correct ratio of doing some for us beforehand, coding along with you, and giving other related info we need.
Even the links and other optional course material are top-notch. Thanks so much for a great course.
This is, by far, the best Flutter video course I've followed.
It is very difficult to find such a comprehensive yet well-explained and easy-to-follow set of information about building a "real world" Flutter app using a sound architecture and powerful state management techniques.
You are hitting the correct balance between intermediate and advanced concepts that translate into a very usable learning curve and information easily transportable into other projects.
I've borrowed many ideas already and I'm looking forward to the next course!
Andrea clearly put a lot work into the material, and after completing solely this course, now I really feel like I now know the fundamentals of Dart and am ready to finally dive into Flutter with confidence!
Thank you again for this great course, I went through some of the lessons multiple times, but it was definitely worth it, and will surely revisit some of the topics if needed.
I love that all topics are separated into short videos, and that every second of every video is valuable (not wasting our time for a moment).
I can honestly say that Andrea's knowledge and guidance is top notch! He explains the principles well which helps you understand the concepts and structures within the Dart language.
This course is a great asset to anyone looking to improve their coding skills. Having Andrea by your side, you should feel privileged to have a mentor / coach of his caliber, who shares his knowledge in such an "easy to understand" manner. Thanks!
Animations have always been my weak point, but Andrea's course covers most if not all the biggest Animation topics, and does so with lots of examples.
Another fantastic course from a great teacher.
Andrea always goes in-depth by creating high-quality courses, and this one does not disappoint.
Learning about animations in Flutter is vital to building beautiful and engaging applications.
I highly recommend this course if you want to master animations in Flutter!
Very well structured course. Easy to understand and Andrea answers questions in his lectures actively.
There's a lot of complex subjects and concepts that Andrea has helped me feel comfortable enough to grasp with his teaching style.
Top notch and highly recommend this course if you're looking to learn Flutter, Dart and Firebase.
Clear explanations, a useful practical application that demonstrates all the core things essential to building an app ready for release into the wild.
Every step taken is clearly and thoroughly explained, plus downloadable code for every section of this course. A fantastic current course and is proving invaluable for strategies for building ideas for my own app.
Cannot praise this course and Andrea's presentation highly enough.
FAQ
Frequently Asked Questions
How many courses are in this bundle?
This bundle includes these four courses:
Flutter Foundations course
Flutter & Firebase Masterclass
Flutter Animations Masterclass
The Complete Dart Developer Guide
Will this bundle still be available after the Black Friday sale?
Yes, however the price will increase significantly on the 30th of November.
Are future courses included in this bundle?
No. Any new courses I release in the future will have to be purchased separately.
Will I get course updates for free?
Yes. You'll get free updates for all the courses that you have purchased, either individually or as part of this bundle.
How long are the courses?
Each course contains between 7 and 15 hours of video content. Since the content is quite dense, I expect it will take you longer to complete them.
What if I get stuck? Can I ask questions?
Yes. You can ask questions on the course Q/A or Slack channel. I answer most questions within 24 hours.
Will I get a completion certificate?
Sure do! Once you complete the course this will be issued to you automatically.
I'm a student / I can't afford the course / I live outside the US/EU / do you support Purchasing Power Parity (PPP)?
Unfortunately PPP is not supported by my course platform. If you'd like to request a discount, please fill this form.
What if I don't like the courses?
All courses come with a 30 day money back guarantee. If you're not happy with the course(s), for any reason, you can reach out and I'll issue a full refund.
All you have to do is go to courses@codewithandrea.com and tell me "gimme my money back" and you got it, and in short order. My response time is usually 24 hours.
Do you offer team packages?
instructor
Hello, I'm Andrea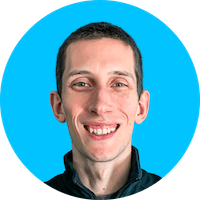 My name is Andrea, I'm a Flutter GDE and I've been writing code professionally for over 12 years. I've been a mobile app developer since 2012, working for startups and big companies.
With my Flutter tutorials and courses, I've helped thousands of students become better developers.
By taking these courses, you'll invest in yourself and fast-track your learning.